"Facilitation Skills"
Background
In the planning of any organizational process that relies upon stakeholder participation, serious consideration should be given to the need for effective in-house facilitation. Effective facilitation can also be a means to achieve maximum value from the on-going prevalent, costly (in person-hours), and necessary use of "meetings, bloody meetings". Participants in this workshop learn how to manage a "pathway" through the real dynamics of group decision-making. Participants have used these skills to expedite change initiatives or enhance their value as resource persons in their own organizations.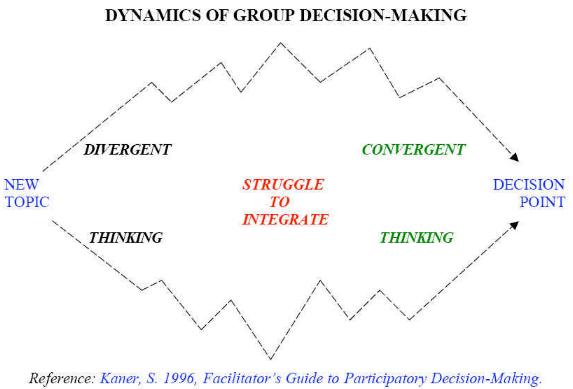 Workshop Title: "Facilitation Skills"
Brief Description: This highly participative (two-day) session provides an abundant set of tools, insights, and practical experience for support of effective group decision-making. Instruction builds upon over 30 years of Facilitation experience, and is combined with exercises for Practice and Observation of a wide variety of facilitation techniques. The skills learned are especially relevant for the involvement of people in participative work design.
Potential Participants: 'Line' Decision-makers, Resource persons and Technical staff (all levels), and Educators/Professionals.
Topics:
Why & What of Facilitation
Group Memory
Process Design & Start-Up
Facilitative Listening
Organizing Open Discussion
Consolidating & Prioritizing
Dealing with Difficult Dynamics
Brainstorming
Framework for Sustainable Agreement
Evaluation & Decision-Making
Closure
Learning Outcomes:
(What will people walk away with?)
Reinforced Understanding of the Role, Functions, and Values of a Facilitator
Refreshed Competence and Self-Confidence in fundamental Facilitation Skills
Refinement of individual Facilitator Preparations & Plans for specific processes they facilitate
.