"Managing for Outstanding Safety"
Background
This workshop utilizes a model of safety management that was developed from detailed observation of organizations with consistent (year-over-year) outstanding safety performance. Many models of safety management are descriptive—this framework identifies key 'drivers' and their impacts upon the end-result of safety performance. In this workshop, the specifics of key factors are illustrated, and participants are involved in exploration of how the framework might be applied in their own workplace.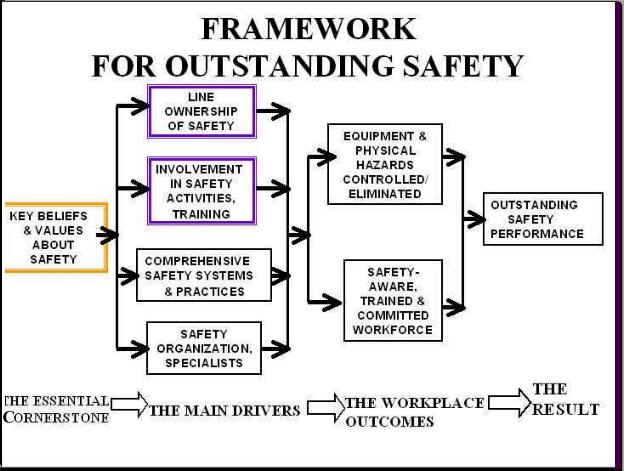 Adapted from:-
Stewart, J. M., 2002. Managing for World Class Safety, New York, John Wiley & Sons.
Workshop Title: "Managing for Outstanding Safety"
Brief Description: This (one-day) workshop focuses on how organizations can be designed to achieve outstanding safety results. The model of 'managing for outstanding safety' is based on research that has benchmarked the 'best' in safety worldwide. Participants learn 'intangible keys to success' and 'key drivers' that are in addition to comprehensive safety systems. The workshop presents a process for step-change, and reviews the experience of organizations that have successfully made this journey.
Potential Participants: Managers (all levels), Human Resources and Technical staff, Union officials,
and Employees (all levels) .
Topics:
What are the performance standards of "Outstanding Safety"
Model of "Managing for Outstanding Safety"
Identification of key "Drivers" and the "Foundation" for outstanding safety
Benchmark comparisons with organizations worldwide
Processes for Step-Change and continuous improvement
Detailed Review of Three Case Study experiences
Learning Outcomes: (What will people walk away with?)
Understanding of the Foundation and Key Drivers
for Outstanding Safety
Reflection on Possible Application
to one's Own Work Setting